Working With Intense Emotions On The Mat
Join Jelena Vesic and Sandra Pribanic, Reg. Psychotherapist for this unique 4-part course where we discuss and begin to understand why we experience various patterns of emotion during our practice both on and off the mat.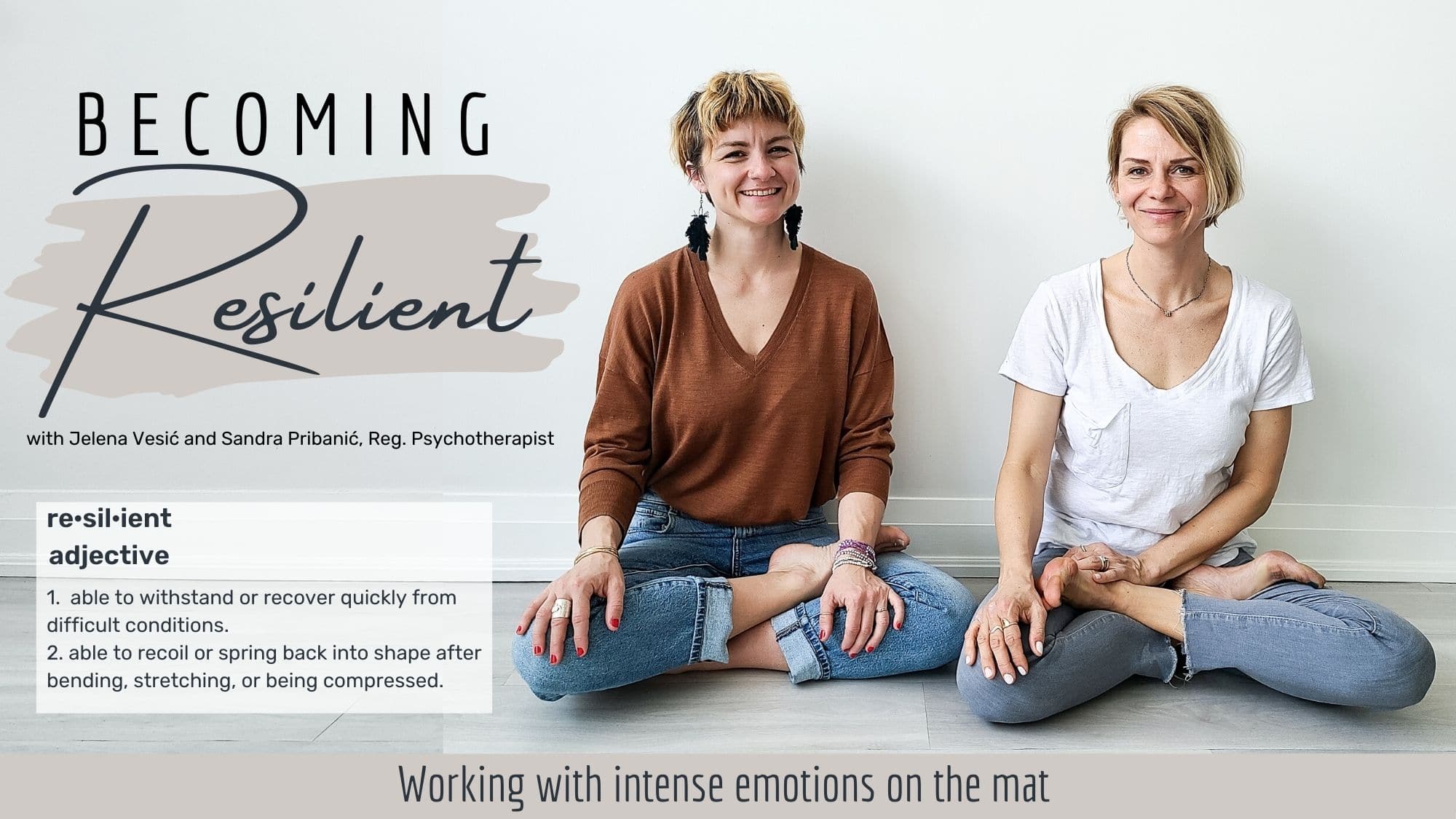 What You'll Learn In This Course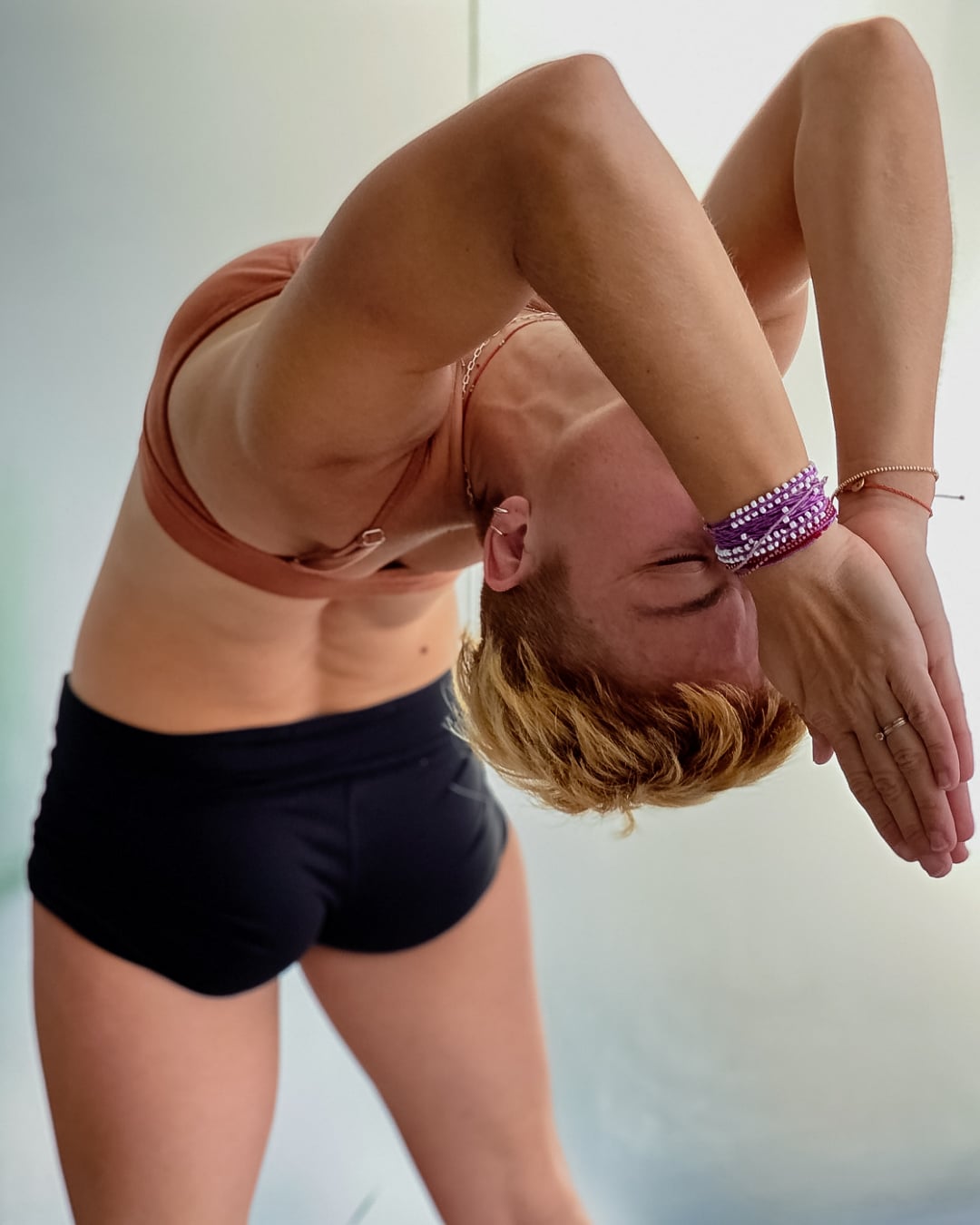 "When we look at the horrors and the joys with an unbiased heart and an open mind, neither resisting or grasping them we open the gate to freedom." - Jack Kornfield
When the initial love affair with our practice wears off and things begin to settle, we start to experience the uncomfortable emotions of sadness, anger, fear and boredom. Our initial reaction is to avoid and distract ourselves from feeling any of it. While this may be necessary at times, in the long run it can rob us of true freedom and inner peace.
Unresolved emotions and stories of our life will show up in the practice, and learning how to hold them with compassion and an open heart, while being gentle with ourselves, is challenging but liberating.
The purpose of this course is to help you navigate the difficult emotions of sadness, anger, fear and boredom on the mat. We will discuss ways to work with these intense emotions, and how to stay open and curious despite the unpleasantness. We will also discuss what you can do as a teacher to support your students going through the same.
Remember, unpleasantness on your mat is normal. As difficult as it may be, you actually want it to show up in your practice.  And when it does, the point is to stay with it.  Let it tell you a story.  Working with resistance can be a doorway into a deeper self knowing, more awakened heart, and true inner peace.
"This course was so, so helpful for my body, mind, soul and overall well being. Being a part of a powerful online women's circle felt like the closest connection ever. I've learned how to connect with bandhas but most importantly how to connect more strongly with a woman inside of me.  Looking forward to learning more from you! Beyond grateful."

- Marina Majinski (Women & Bandhas)
"Women and Bandhas couldn't have come at a better time! Right when I (and probably countless others) needed this course, Jelena, Sandra, and Anna came through and offered all women and those who identify as such a forum to find, explore, and connect with their pelvic floors and with yoginis around the world."

- Jessica Murphy (Women & Bandhas)
"This course was invaluable, as a woman, yoga teacher and Ashtanga student. I am so grateful to Jelena for bringing these wonderful women together and I feel so blessed to have been a part of such a large gathering of women, I am looking forward to the next one!"

- Giovanna Phillips (Women & Bandhas)
LESSON 1
Why We (don't) Cry
Many of us have been conditioned to suppress our sadness. Whether we cry or not, the intensity of our sorrows is real. It's in the body.

In this session we discuss the wisdom of sadness, explore ways to stay present with it and how to release it mindfully.
LESSON 2
Anger and Vulnerability
Jack Kornfield writes; "Anger shows us precisely where we are stuck, where our limits are, where we cling to beliefs and fears."  It's like a warning signal.

In this session we explore the emotions of anger and its lighter counterpart which is vulnerability.
LESSON 3
FREEZE: Paralyzed by Fear
Pat Ogden explains; "Trauma refers to any threatening, overwhelming experience that we cannot integrate…"
Yoga can be a means to gently access the trauma stored in our body.  The process of healing necessitates learning to trust ourselves, again. 

In this lesson we talk about the autonomous response to real or perceived threats focusing on the freezing response.
LESSON 4
Befriending Boredom
We are taught to avoid feeling bored, so when it begins to show up in our practice we assume something is wrong. And yet, becoming bored in AND with our practice is normal. There are many stories behind boredom (& restlessness): avoidance, distractedness, over-stimulation, etc.
In this session we unpack what boredom is, and discuss how to approach it when it shows up in the practice.
Disclaimer: Sensitive topics may be discussed. 
No refunds once purchased.
Includes LIFETIME access to all lessons and course materials.
Jelena first came to yoga through dance. As a former ballet dancer of 16 years, the structure and rigour of the Ashtanga Yoga practice felt like home. Drawn to the discipline, mindfulness of the movement and emphasis on the breath, Jelena made the Ashtanga practice her sole focus in 2009.
Jelena has maintained a daily Ashtanga practice for over a decade. She's made two trips to Mysore, India to study with her teacher, Sharath Jois.
Lastly, Jelena's true passion lies in promoting rescue and adoption of (street) dogs. You can often find her sharing her love for #adoptdontshop on her IG, and sharing the joys of living with her two fur-babies, Boksoon and Khani, both celebrities in their own right.
Sandra is a Registered Psychotherapist and Ashtanga practitioner based in Toronto, Ontario.
​Her approach is holistic, and integrates body centered psychotherapy, neuroscience, mindfulness, early childhood development theories, and early relational and collective trauma.
In her practice, she works with a broad range of issues including relationships, intimacy, anxiety, stress, emotional overwhelm, low self-esteem, depression, effects of early childhood trauma, body image, shame, complex changes in family, and dealing with life threatening illnesses.